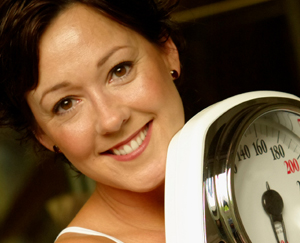 Is a high-protein or a high-carbohydrate diet better for weight loss? A long-term study presented to American Diabetes Association suggests possibly "both"
Data Suggests Any Diet Will Work—
If You Follow It
Is a high-protein or a high-carbohydrate diet better for weight loss? A long-term study presented at the recent American Diabetes Association conference suggests "both." Or rather, any diet works, so long as you stick with it. High protein vs. high carbohydrate
To compare weight loss diets, researchers randomly selected 419 overweight, 35- to 75- year-old adults with diabetes to follow a low-fat, high-carbohydrate diet or a low-fat, high-protein diet. Study participants attended twice weekly, dietitian-led classes for the first six months and monthly sessions for another six months, to help them stick with their assigned diet. After two years, 70% of the participants had completed the study.
Tenacity is the key
Both the high protein and high carbohydrate diet groups had
lost an average of about five pounds,


reduced their waist circumference by approximately one inch, and


significantly reduced a blood measure called hemoglobin A1c ( lower hemoglobin A1c indicates improved blood sugar control).
Lead study author Jeremy Krebs, MD, points to two key messages from this study. "The first is that no matter what diet we prescribe, people find it extremely difficult to sustain the changes from their habitual diet over a long time. But if they are able to follow either a high-protein diet or a high-carbohydrate diet, they can achieve modest weight loss," Dr. Krebs stated.
Working the weight loss equation
This study brings home an eternal truth: Losing weight can be a challenge! But don't lose sight of the fact that blood sugar control improved in all study participants, regardless of the diet followed. For anyone with diabetes or insulin resistance (a condition that can precede type 2 diabetes), this is great news. Our get-healthy tips will help you make smarter eating choices beginning today.
(Krebs, JD, et al. Abstract No. 0783-P Two Year Randomised Controlled Trial of High-Protein Versus High-Carbohydrate Diet in Type 2 Diabetes: Diabetes Excess Weight Loss (DEWL), 71st Scientific Sessions of the American Diabetes Association; Accessed June 26, 2011; available here.
Suzanne Dixon, MPH, MS, RD, an author, speaker, and internationally recognized expert in chronic disease prevention, epidemiology, and nutrition, has taught medical, nursing, public health, and alternative medicine coursework. She has delivered over 150 invited lectures to health professionals and consumers and is the creator of a nutrition website acclaimed by the New York Times and Time magazine. Suzanne received her training in epidemiology and nutrition at the University of Michigan, School of Public Health at Ann Arbor.